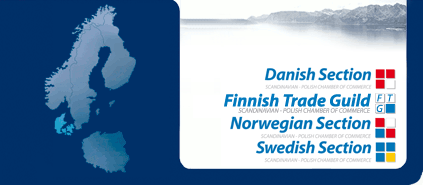 Find out more about
the SPCC National Sections:
SCANDINAVIAN-POLISH
CHAMBER OF COMMERCE
e-mail: spcc@spcc.pl
tel.: +48 22 849 74 14
We have a new adress!
ul. Marszałkowska 142, p. 6
00-061 Warszawa
About SPCC

Om SPCC paa dansk |

Om SPCC pa norsk |

Om SPCC på svenska |
Tietoa SPCC:sta

We are a non-profit organisation created by business people. For nearly 20 years, we have supported the development of economic relations between Poland, Scandinavia, and the Baltic States. We integrate and inspire the Polish-Scandinavian business community.
As Poland's third largest international chamber, SPCC has 400 members representing the most important economic sectors.
We cooperate closely with the embassies of the Nordic countries in jointly supporting investors and working to develop Polish-Scandinavian business relations.
Membership in SPCC gives access to knowledge and information, a wide range of business meetings and the opportunity to establish contacts and build long-term relationships, which play a crucial role in Scandinavian business culture.