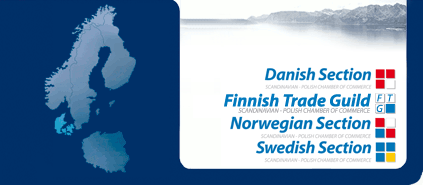 Find out more about
the SPCC National Sections:
SCANDINAVIAN-POLISH
CHAMBER OF COMMERCE
e-mail: spcc@spcc.pl
tel.: +48 22 849 74 14
We have a new adress!
ul. Marszałkowska 142, p. 6
00-061 Warszawa
About SPCC

Om SPCC paa dansk |

Om SPCC pa norsk |

Om SPCC på svenska |
Tietoa SPCC:sta
The Scandinavian-Polish Chamber of Commerce (SPCC) is an association created by business people and entrepreneurs associated with Scandinavia. SPCC's head office is located in Warsaw, but the organization is active in the whole country. Since the beginning of 2015, SPCC has its regional office in Gdynia. Additionally the Chamber has its representatives in Szczecin and is also active in Wroclaw and Poznan.
Currently, SPCC brings together over 400 members and is one of the largest bilateral chambers in Poland. Membership in the Chamber gives plenty of networking opportunities with an elite group of high-performing managers of Nordic companies and is also a good way of finding inspiration for everyone who would like to expand their business.
While expanding our organization our focus lies on:
Extending the network
Activities stimulating member companies development
Knowledge and experience sharing
Support of Scandinavian-Polish business interests
One of our main objectives is to promote the traditional values associated with Scandinavia:
fair competition
transparency in business
gender
Corporate Social Responsibility
respect for the environment
We support associated companies by:
Networking and business possibilities during numerous events organized by SPCC in PoznaĹ", Szczecin, Tricity, Warsaw, Kraków, and WrocĹ'aw (around 60 events, seminars and conferences per year).
Promotion of member companies during SPCC events.
Promotion of member companies on the SPCC portal www.spcc.pl which is designed to increase companies' visibility on the Internet and optimize their positioning.
Cooperation with other bilateral chambers of commerce, business organizations from Poland and Scandinavia and embassies of the Nordic countries.
Information and communication activities supporting member companies in solving issues important to them.
Promotion of Scandinavian culture, organizing of cultural events and supporting of initiatives related to Nordic countries.
Thanks to our vast contact network, experience and qualified personnel, SPCC may also provide services to Polish companies wishing to get information about the Scandinavian markets, or companies interested in finding business partners - manufacturers, distributors, direct customers - in the Nordic countries.
We encourage you to watch movies about SPCC:
SPCC 15th Anniversary movie:

Short animation about SPCC activities: