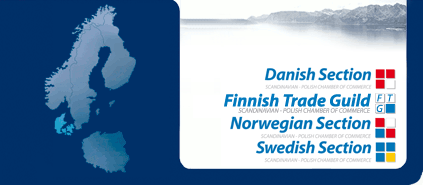 Find out more about
the SPCC National Sections:
SCANDINAVIAN-POLISH
CHAMBER OF COMMERCE
ul. Wiśniowa 40B lok. 9
02-520 Warszawa
Phone: +48 22 849 74 14
Fax: +48 22 646 49 30
e-mail: spcc@spcc.pl

Main Office
Agnieszka Zielińska
Managing Director
e-mail: azielinska@spcc.pl

Agnieszka has +12 years of extensive experience in international business environment in many areas: business relations, marketing, events management. She is also business trainer and a lecturer. She has worked in a wide array of industries including real estate, media, business NGO and is committed, for more than 8 years, to developing Scandinavian – Polish cooperation. Graduate from WrocĹ'aw Uniwersity, WSB University (HR) and SET Academy (business trainer).
Katarzyna FrÄ…ckowiak
Regional Manager Northern Poland
e-mail: kfrackowiak@spcc.pl

Graduated from Management and Marketing Studies at Technical University of Gdansk, achieved "Golden Badge" of TUG Chancellor; graduated from Chartered Institute of Marketing in London with international title of professional marketer, ACIM. Over 10 years of experience in building relations with Clients, project management and event organization. Previously worked as Key Account Manager for Streetcom marketing agency.

Sandra M. Tetzlaff
Business Development Manager
e-mail: stetzlaff@spcc.pl

Graduated from Environmental Protection & Sustainable Development Studies at Warsaw University of Life Sciences, scholarship at the University of Copenhagen, post-graduate MBA Academy at Warsaw School of Economics and Public Relations at LSPR. Over 14 years experience in business development, marketing and project management. Previously worked for Institute for Renewable Energy, Bauer Media and Faveo Management in Norway.

Sylwia Wojtaszczyk-Ciąćka
Content & Project Manager
e-mail: swojtaszczyk@spcc.pl

Graduated from political sciences at the University in Poznan, international relations at the Univeristy of WrocĹ'aw and postgraduated studies "CSR - Strategy of responsible business" at Kozminski University in Warsaw. Sylwia was also a participant of a student exchange at the University of Jyväskylä in Finland.

Marta Wilk
Events Coordinator
e-mail: mwilk@spcc.pl

Marta graduated from history and culture of Scandinavian countries at the Nicolaus Copernicus University in ToruĹ" and postgraduated studies "Public Relations and Strategic Communication in Companies" at the Warsaw School of Economics. A scholar of the International Summer School at the University of Oslo, Norway.

Michał Skrzekotowski
Office Coordinator
e-mail: mskrzekotowski@spcc.pl

Graduated from National Security studies at the Faculty of Journalism and Political Science of the University of Warsaw, specializing in Crisis Management and Energy Security.