SPCC Photo Competition 2018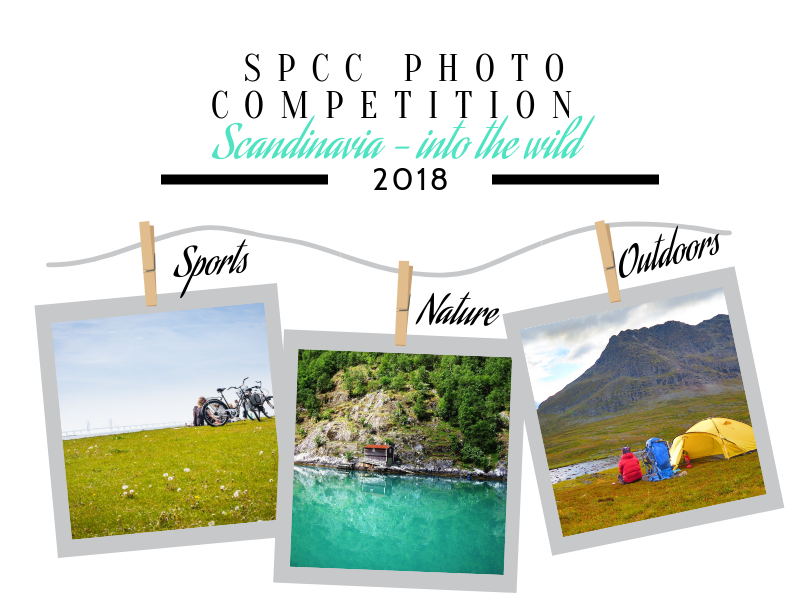 created by Piktochart
The topic of this year Photo Competition is widely connected with two Scandinavian phenomena:
Allemansrätten & Friluftsliv
Allemansrätten, Allemannsretten or Jokamiehenoikeus in Finnish is a very old law in Scandinavia which gives you the right to roam freely - walk, cycle, ride, ski and camp – in the Scandinavian countryside. Such right has survived in the Nordics in the purest form, whereas in other countries land was gradually enclosed for private use and enjoyment. This right became also a main focus of a widely recognized Swedish tourist campaign which listed the entire country of Sweden on Airbnb.
Passion for nature is also reflected in Friluftsliv – which translates into open air living. It was brought to life in 1850s by the Norwegian playwright and poet, Henrik Ibsen, who used this term to describe the value of spending time in remote locations for spiritual and physical wellbeing.
Having in mind this beautiful tradition and heritage we want to get to know your experience and photo memories related to nature, sports & outdoor life in Scandinavia. What wild corners of Scandinavia have you visited? Has Scandinavian nature impressed you and in which way? How have you experienced friluftsliv and allemansrätten? Send us your pictures!
Rules of the competition
The winners will receive prizes and the winning pictures will be published in the SPCC Calendar for 2019. The interpretation of the competition theme is very wide, however pictures which do not directly relate to the theme may be disqualified.
Prizes:
Lunch including coffee & dessert in Hotel Bristol, A Luxury Colletion Hotel, Warsaw for 2 people
4 course dinner (tasting menu) including house wine for 2 people in Belvedere Restaurant
weekend stay for 2 people in Sopot Mariott Resort & Spa
VIP voucher for a stay in Kalevala - traditional Finnish village in Polish mountains: www. kalevala.pl
travel voucher and gifts from Albatros Travel
Fjällräven Travel Pack - pefrect for a short business travel
gifts funded by JULA
stay in recently opened PURO Hotel Kazimierz in Kraków
2 vouchers for 400pln each from Supertour Lufthansa City Center
The deadline for submitting your photographs is Thursday,
6th of September 2018.
Each participant can submit max. 3 photographs and they should be send to:
spcc@spcc.pl
or delivered to our office on CD/DVD.
Additionally, we would like to ask you to include a short description (max. 200 characters with spaces, in English) explaining where the photo was taken.
The results of the competition will be announced during Welcome Back to Work Business Mixer in autumn 2018.
Photo competition regulations click here
Please read it carefully before entering the competition and place the following statement in the content of the e-mail:
"I hereby declare that I have read the SPCC Photo Competition Regulations and I do agree for all of its provisions, in particular concerning copyrights to the photographs submitted to the Competition".
In case of any questions regarding the theme or the rules of the competition please contact
Sylwia Wojtaszczyk-Ci─ů─çka, swojtaszczyk@spcc.pl, tel. 22 849 74 14.
***
Prize sponsors: