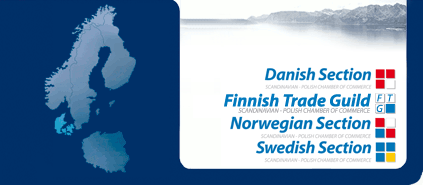 Find out more about
the SPCC National Sections:
Warszawa, 11-10-2018
As part of the next edition of the Economic Outlook, Jakob Ekholdt Christensen, Chief Analyst, Head of International Macro and Emerging Market Research at Danske Bank, at the meeting in Warsaw presented seven global risks for the second half of 2018 and analyzed Poland in a regional context. He presented further economic challenges for Europe, among others an aging society, a global trade war, the role of countries within the European Union. The meeting took place at the Danske Bank headquarters on October 11, 2018. SPCC would like to thank you for participating in the event, also on behalf of the Danske Bank Partner.
Warszawa, 9-10-2018
As the part of the VIP Breakfast meetings members of the Scandinavian-Polish Chamber of Commerce met with Tadeusz Ko┼Ťci┼äski, Undersecretary of State in the Ministry of Entrepreneurship and Technology on the 9th of October in the Bristol Hotel. At the meeting were discussed issues of the Ministry activity, good economic data for the Polish market, trade and investment. The participants asked a lot of interesting questions.
Warszawa, 2-10-2018
This time, as part of the SPCC Businesswomen Network meetings, we were hosted in a wonderful, inspired Scandinavian style interior, thanks to the invitation of our Member company - Kinnarps. As usual, we had a pleasure to meet with successful leaders.
Warszawa, 20-09-2018
Last Thursday, during our Welcome Back to Work Business Mixer, we oficially opened the business season after summer and welcomed 27 new Members to the Scandinavian-Polish business community.
Szczecin, 6-09-2018
Last Thursday we had a pleasure to get together with our member companies from Szczecin to celebrate last days of summer in beautiful atmosphere of Crayfish party and sunny summer evening in Tawerna Porto Grande.
Warszawa, 14-06-2018
SPCC Businesswomen Network held last meeting just before the summer break in the newly restored beautiful apartament building on Wiejska Str., where we were hosted by our Member company – Artur Hunt Consulting. As usual we had a pleasure to meet with successful leaders.

Gdynia, 12-06-2018
Yesterday we had a pleasure to meet with our members in Gdynia at Nordea office to talk about Scandinavian Workplace, HR standards and what attracts us to Scandinavian employers. Panelists - Stena Recycling, Flugger and Nord HR among others agreed that ...
Warszawa, 9-06-2018
On 9th of June around 200 Finns and friends of Finland in Warsaw spent a day full of attractions during the Finnish Summer Picnic. Great weather, traditional Finnish games including Mollky, animations and games for kids made that day unforgettable. See you next year!
Warszawa, 9-06-2018
Last Saturday together with the Embassy of Denmark in Poland the Members of Danish Section of SPCC celebrated the Danish Constitution Day. Thank you to all guests for being with us during that sunny day and thank you to sponsors & partners for supporting this wonderful occassion. See you next year!
At the second half of the year during a conference "Nordic insights - trends shaping the future of business" we will present a trendbook prepared in cooperation with Infuture Hatalska Foresight Institute which describes leading Scandinavian trends. We will discuss major changes important for the Scandinavian and Polish business in three scopes: economical, environmental and social.
On the 17th if May Members of SPCC met with Minister Jadwiga Emilewicz and discussed how Scandinavian companies operating in Poland can contribute to the development of innovations in Poland and Industry 4.0.
According to foreign investors, Poland's competitive advantage lies in the EU membership, quality of staff, availability of local subcontractors and increasingly better infrastructure. Unfortunately, foreign companies operating in Poland see a decrease in the availability of qualified employees.