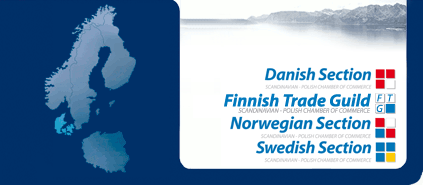 Find out more about
the SPCC National Sections:
SCANDINAVIAN-POLISH
CHAMBER OF COMMERCE
e-mail: spcc@spcc.pl
tel.: +48 22 849 74 14
We have a new adress!
ul. Marszałkowska 142, p. 6
00-061 Warszawa
Team
Agnieszka Zielińska
Managing Director
e-mail: azielinska@spcc.pl
tel. +48 723 656 621

Agnieszka has +15 years of extensive experience in international business environment in many areas: business relations, marketing, events management. She is also business trainer and a lecturer. She has worked in a wide array of industries including real estate, media, business NGO and is committed, for more than 10 years, to developing Scandinavian – Polish cooperation. Graduate from WrocĹ'aw Uniwersity, WSB University (HR) and SET Academy (business trainer).
Ewa Lisiewska-Szczygieł
PR & Communication Manager
e-mail: elisiewska@spcc.pl
tel. +48 697 097 277

As an educated and devoted language expert and professional translator, she became fascinated by linguistic and intercultural communication. From here, it was but a short step to pursue a career in PR.

Graduated from Swedish philology at the Jagiellonian University and post-graduated from Public Relations at the Warsaw School of Economics. She studied in Sweden at Uppsala University and in Germany at Bonn University.

Sylwia Wojtaszczyk-Ciąćka
Content & Project Manager
e-mail: swojtaszczyk@spcc.pl
tel. +48 697 905 950

Graduated from political sciences at the University in Poznan, international relations at the Univeristy of WrocĹ'aw and postgraduated studies "CSR - Strategy of responsible business" at Kozminski University in Warsaw. Sylwia was also a participant of a student exchange at the University of Jyväskylä in Finland.

Sebastian Krawczyk
Event Operations Manager
e-mail: skrawczyk@spcc.pl
tel. +48 601 236 338

A graduate of the Economic College in Warsaw with Hotel Management specialization. Project Manager associated with the tourism industry for over 12 years. His experience in the field of creating and conducting broadly understood events, both in Poland and abroad, was gained in one of the largest companies in the Business Travel industry. A passionate traveler and explorer of interesting and non-obvious places in the world.
Ewa Chojnowska
Membership Development Manager
e-mail: echojnowska@spcc.pl
tel. +48 606 195 505

Highly motivated manager who has ample experience working with a multitude of international corporations (e-commerce, education and technology). She has also worked as a university lecturer. Ewa graduated from Warsaw School of Economics (Innovation and Competitiveness in the World Economy) and the University of Warsaw (Translations).
Kamil GÄ…siorowski
Regional Manager for Northern Poland
e-mail: kgasiorowski@spcc.pl
tel. +48 697 630 782

A graduate of Tourism and Recreation at the University of Physical Education in Poznań. Hotelier with 15 years of experience. During the last 8 years, he created sales departments in newly emerging hotels in Poznań and Gdańsk. Kamil has extensive experience in the business environment and establishing relationships with Scandinavian partners. Volleyball fan and amateur explorer of the Nordic countries.
Martyna Szczechura
Administrative Assistant
e-mail: mszczechura@spcc.pl
tel. +48 665 135 817

A graduate of English Philology with over 7 years of experience working as an assistant.
In spare time, she travels a lot, especially to Scandinavian countries, she's also passionate about landscape photography.

Marta Wilk
Event Operations Manager

Marta graduated from history and culture of Scandinavian countries at the Nicolaus Copernicus University in ToruĹ" and postgraduated studies "Public Relations and Strategic Communication in Companies" at the Warsaw School of Economics. A scholar of the International Summer School at the University of Oslo, Norway.