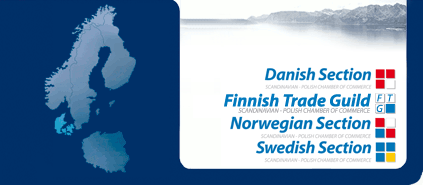 Find out more about
the SPCC National Sections:
We start the new business season every year with the Welcome Bak to Work Business Mixer, during which we welcome new member companies and announce the winners of annual photo competition. This year the event will take placein the exceptional Volvo Car Warsaw - an unique concept store combining Volvo car showroom, a Swedish café, a VR zone and an event space.
Scandinavian Polish Chamber of Commerce together with the Marshal Office of West Pomeranian have the pleasure of organizing a business event by the end of September putting together local authorities and representatives of Scandinavian business from this region.
Join us for the SPCC Academy workshop on solution selling. We will learn about the selected rules and steps of the process. We will address key issues such as how can we diagnose customers' needs; what does it mean to be a good sales person today. We will also reflect about when we sell and how to do it the best way.
Szczecin, 6-09-2018
Last Thursday we had a pleasure to get together with our member companies from Szczecin to celebrate last days of summer in beautiful atmosphere of Crayfish party and sunny summer evening in Tawerna Porto Grande.
Warszawa, 14-06-2018
SPCC Businesswomen Network held last meeting just before the summer break in the newly restored beautiful apartament building on Wiejska Str., where we were hosted by our Member company – Artur Hunt Consulting. As usual we had a pleasure to meet with successful leaders.

Gdynia, 12-06-2018
Yesterday we had a pleasure to meet with our members in Gdynia at Nordea office to talk about Scandinavian Workplace, HR standards and what attracts us to Scandinavian employers. Panelists - Stena Recycling, Flugger and Nord HR among others agreed that ...
Warszawa, 9-06-2018
On 9th of June around 200 Finns and friends of Finland in Warsaw spent a day full of attractions during the Finnish Summer Picnic. Great weather, traditional Finnish games including Mollky, animations and games for kids made that day unforgettable. See you next year!
Warszawa, 9-06-2018
Last Saturday together with the Embassy of Denmark in Poland the Members of Danish Section of SPCC celebrated the Danish Constitution Day. Thank you to all guests for being with us during that sunny day and thank you to sponsors & partners for supporting this wonderful occassion. See you next year!