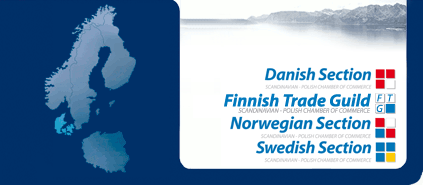 Find out more about
the SPCC National Sections:
Warszawa, 18-09-2019
The Scandinavian-Polish business community celebrated the 15th Anniversary of the SPCC. The ceremony took place in the Radisson Collection Hotel, Warsaw. We would like to thank all of our guests for the participation in our event and joint celebration of this special occasion. We would like to extend our special thanks to the event patrons: IKEA Retail Poland, MOWI Poland, Nordea Bank and VELUX Poland.
Warszawa, 6-09-2019
Last Friday we had the opportunity to meet with our colleagues from member companies in Warsaw to celebrate the Scandinavian tradition of Crayfish Parties. Thank you to all participants for the great time spent together and having fun with delicious food and drink.
Wrocław, 5-09-2019
At the Business Breakfast for Scandinavian Companies, members of the Scandinavian-Polish Chamber of Commerce met with Mr. Jakub Mazur - Vice President of The City of Wroclaw and Ambassadors of Sweden and Denmark - Mr. Stefan Gullgren and Mr. Ole Egberg Mikkelsen. Many interesting questions were raised during the meeting, on matters such as: investment climate or potential challanges for activities of Scandinavian investors in the region.
The brochure published on the occassion of SPCC 15th Anniversary presents crucial data regarding the scope of investment, scale of economic cooperation between Poland and Scandinavia and to sum up the presence of Scandinavian companies in Poland. We also decided to ask the managers of the most sucessful Nordic brands present in Poland about their future plans and challenges. The results you will find in the brochure "Scandinavian business in Poland - past, present & the future" created together with DNB Bank Polska and under Honorary Patronage of Nordic Embassies in Poland. Download HERE
We all know that Scandinavia is famous for its beautiful nature, but there is another side of the Nordics which have gained a lot of popularity and recognition.This year we put Nordic Architecture & Design in the spotlight! Take part in our Photo Competition and send your pictures before 23/09/2019.
We have the pleasure to present you with the SPCC Report "Nordic Insights - trends shaping the future of business". Together with infuture hatalska foresight institute we identified 14 trends related to the most popular innovations currently being developed on the Scandinavian market and worth a close look within the further development of Scandinavian-Polish cooperation.